Cardio & Conditioning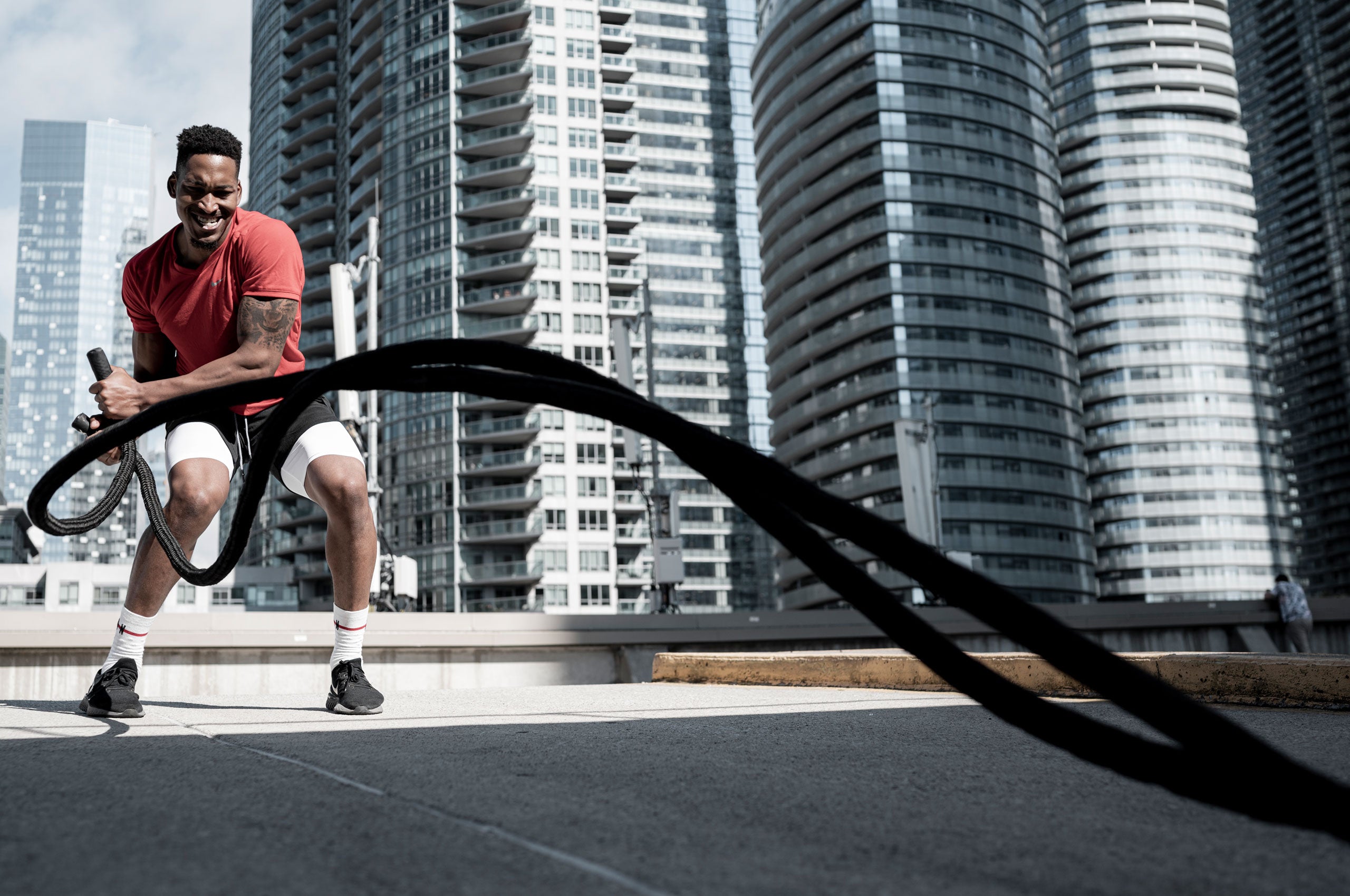 Get your heart racing, your lungs pumping, and your endorphins flowing.
Cardio & Conditioning
Cardio and conditioning can provide you with maximum weight loss, weight maintenance and overall good health, cardio, and strength training. Increase your overall cardio and conditioning significantly with our agility training tools, battle ropes, sliders, plyo boxes, running parachutes, skipping ropes, and exercise ball! This can help you develop a stronger respiratory system, increase your bone density, decrease your stress levels, and reduce your risk of heart disease.
Running parachute
The COREFX Resistance Parachute is known to improve speed, stamina, strength and acceleration! Add resistance to your training to help force your glutes, quadriceps, hamstrings and calves to contract with greater explosiveness, to help you perform better!
Plyo boxes
Get ready to level up your workout game with our anti-slip plyobox. Don't slip up, step up to the challenge and crush your fitness goals!

Step up your game with our Foam Plyo Box - the ultimate tool for high-intensity workouts. No pain, all gain! Get yours now

Ramp up your workouts with the Stackable Foam Plyobox. It's lightweight, durable, and won't bruise your shins. Stack it up and show off your jumping!

Agility training

Agility training improves the rate at which your muscles contract, which enhances your natural reflexes and improves your coordination and dynamic balance to be able to increase your response time to constantly changing situations.

Battle ropes

Battle Ropes are a full body workout, that have been shown to be one of the best forms of exercise in terms of both effectiveness and efficiency! The ropes can be whipped, slammed, or dragged, but among the most popular are undulating movements that cause the ropes to move in waves.

Skipping ropes

Double the fun, double the burn! Our Double Under Speed Rope will have you jumping for joy and shredding those calories in no time. Ready, set, go!

Jump into your fitness routine with our skipping rope. A fun way to get fit while skipping the gym fees. Time to rope in those gains!

Aerobic steps

Step up your fitness game with our aerobic steps. Perfect for stepping, jumping, and dancing your way to a healthier you. With adjustable height and non-slip surface, you can step up your game without slipping up!

Sliders

Work on your core strength with the dual-surface gliders on your hands, knees or feet while performing a variety of exercises from push-ups to mountain-climbers.

Exercise ball

Whether you're using the Anti-Burst Exercise Ball to perform elevated push-ups, planks, improving posture, or back bends and bridges, this ball can provide you with it all.

Choosing a selection results in a full page refresh.
Opens in a new window.