SKU:CFXCBROPE
Regular price
$155.19 CAD
Regular price
$193.99 CAD
Sale price
$155.19 CAD
Unit price
per
Sale
Sold out
Dimensions

Covered Battle Rope - Default Title

15.5 in x 12 in x 12 in
Battle your way to the ultimate fitness goal with this Covered battle Rope from COREFX! Getting into shape has never been easier! The Battle Rope gives you a full-body workout that wakes up your muscles and makes your heart race, which makes it a perfect tool to add to your fitness arsenal! The Covered Battle Ropes may look old school and just for hard-core athletes, abut this is not the case! The COREFX Battle Ropes are an amazing variation of workout equipment that virtually anyone can use to get a full body, dynamic workout in. While you can't change the weight of the rope, you can adapt the speed, intensity and duration of your rope workout. Start slowly and work your way up once your fitness improves. Whether you are a beginner or a gym shark, the Battle Rope is suitable for you! A powerful choice for CrossFit trainers, general fitness enthusiasts, and professional athletes. It provides an especially great workout for boxers, swimmers, martial artists, and players of baseball, basketball, football, and tennis. The Covered Battle Rope is 1.5-Inch in diameter and 50-Feet in length and weighs 28 lbs. and has a heat-sealed plastic boot cover for each handle.
Share
View full details
Work every muscle
Work all your muscles at once – including your grip strength. The Battle Rope will help to dramatically increase strength, explosiveness, endurance and overall cardio and conditioning, fast. This heavy-duty exercise rope can be used indoors or out, as it offers a reliable, long-lasting performance, so you can perform a high intensity full-body workout just about anywhere!
Anchor anywhere
Our Covered Battle ropes are so much more than just another piece of gym equipment. The rope's flexible design makes it easy to take almost anywhere, from home to the gym, park, or beach and back again. All that is needed is a stable anchor, like a tree or a pole, and you're ready to go!
Explosive training
Heavy duty design

This commercial-grade COREFX Covered Battle Rope is designed to provide you with years of workouts! Made from high-quality nylon, this rope features a plastic boot that shields the handles from weather and wears and measures 50 feet long and weighs only 2.8 lbs.

Full-body workout

The COREFX Covered Battle Rope is designed to get you into shape quickly and efficiently. It engages the hands, upper body, lower body, and core in a functional movement to create a great workout session in no time!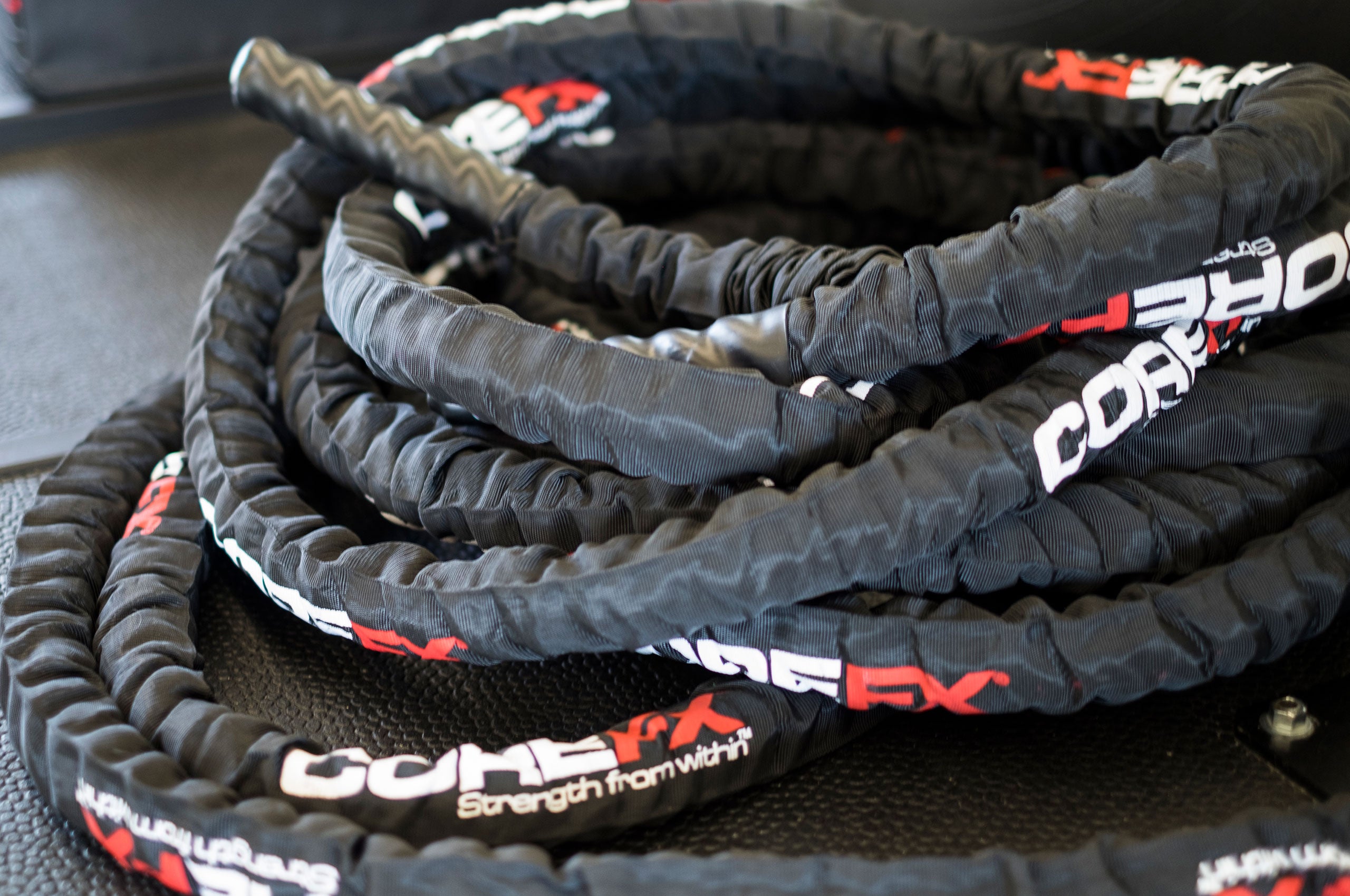 Long lasting
Increase endurance and strengthen your core as you train with this battle rope from COREFX. Our battle ropes have a unique core that mimics the feel of a natural fiber rope. The durable polyethylene material won't shred or shrink like Manila ropes and is suitable for use in all training environments.
Enhance your fitness journey
Anchor down and power up! Our battle rope anchor keeps your workouts stable, so you can focus on unleashing your inner warrior. Train like a champion

Unleash the beast within! Our battle ropes provide a full-body workout that ignites your muscles and tests your limits. Get ready to sweat, feel the b

Get ready to conquer your workout with our braided battle ropes! These ropes will give you the burn you deserve, and the gains you crave. Order now!

Elevate your workout with our 50lb adjustable dumbbell. Its compact design and easy-to-adjust weights make it the ultimate space-saving solution.

Get ready to transform your home gym with our 70lb adjustable dumbbell! Its sleek design and weight adjustment feature make it perfect for anyone.

Get ready to swing into action with our premium kettlebells. The only thing they won't lift is your wallet! Fitness has never been this fun.

Meet your new workout buddy - our 40lb weighted vest. He's heavy, he's tough, but he's got your back (and your front) during every rep.

Choosing a selection results in a full page refresh.
Opens in a new window.